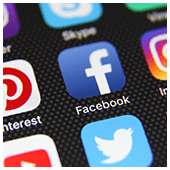 Facebook's not only for posting cat photos, complaining about restaurants, or stalking your ex, it's also an incredibly effective advertising platform. From small businesses to big corporations, anyone can benefit from Facebook's marketing tools. Read on to leverage Facebook to your advantage.
Why advertise on Facebook?
Above all else, the cost-effectiveness of Facebook advertising sets it apart from other marketing channels. The starting cost is as low as 1$ per day, which is ideal for SMBs that want to test small campaigns before investing more.
Beyond its affordability, Facebook advertising is also extremely effective. With 2 billion monthly active users and the ability to nail down your audience to the most specific details — including their interests and online behavior — it's no surprise that Facebook advertising had the best return on investment compared with other social media platforms according to a survey of social media marketers worldwide.
Before you get started
As with other traditional marketing campaigns, before beginning a campaign, you need to determine your marketing objectives, audience, budget, and how you want your ads to look. Once you have the answers to all those questions, you're ready to go.
A step-by-step guide to creating a Facebook ad:
1. Choose your marketing objective
From your your business's profile page, click on "Create Ads" from the dropdown menu in the top right corner.
Enter your campaign name and choose your "marketing objective," which is what you want people to do when they see your ads. It could be increased brand awareness, lead generation, or store visits. You can pick only one from three categories.
Set up your advert account by selecting your account country, currency, and time zone.
2. Nail down your audience
You can tailor your audience based on locations, ages, genders, languages, their interests and behavior, and the kind of relationship they already have with your page, app, or website. It's best to be as specific as possible when selecting your audience.
Set up your budget and posting schedule
Facebook allows you to set up a daily or a lifetime budget. The latter is the maximum amount you plan to spend for an entire ad campaign. Then choose the frequency or the start and end dates in which your ads will appear.

Design how your ads will look
You can choose how your ad posts will look like to your audience, such as whether they will appear as an image carousel, a single image, a video, a slideshow, or a "collection" (a new ad format designed especially for Facebook mobile). Note that your ad will consist of five parts: an image, a headline, a block of text, a link description, and a call to action button.

Tips on designing facebook ads that grab people's attention

Your ads will appear in people's newsfeeds, so make sure your content is interesting and succinct enough to grab their attention as they scroll past it. Each component of your ad — the image, headline, link description and call to action — must stand out when surrounded by vacation photos that rarely receive more than a few seconds of attention.
Creating a Facebook ad is simple, yet the beauty of it is that Facebook also allows for more advanced targeted advertising if you know how to take advantage of what the platform has to offer. Talk to our specialists today; they'll be happy to share a few pointers on how to help you achieve optimal results from your campaigns.
Published with permission from TechAdvisory.org.
Source.