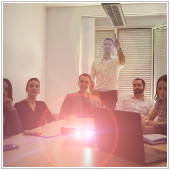 If your last business presentation was dim, faded, or encumbered by bulky equipment, it's probably time for a new office projector. And like any hardware purchase, that means a host of new specifications and measurements need to be learned to avoid sinking money into a useless lemon. If you're in the market for a quick and painless rundown of what makes a projector worthwhile and what makes one unnecessary, we've compiled a number of factors here. Keep reading for our advice on buying a new office projector.
Brightness
If you haven't had any hands-on experience with projectors yet, brightness will undoubtedly be the first thing you notice. Although no projector will ever match the brightness of an LED or LCD television, with some informed shopping you can easily mitigate this unfortunate drawback. A 'lumen' is a measure of brightness listed under the specifications of any new projector. Anything over 2,000 lumens should be appropriate for small-group presentations in a low-light room. For larger meetings with more ambient light, 3,000 lumens should be able to negate any added burdens. No need to go any higher than that unless you expect to host more than 100 viewers and let a little light into the room.
Resolution
While brightness may be the first thing you notice, resolution is probably the first thing you think of. Before deciding on a resolution, give some honest consideration to how essential it is for the projector's intended use. If the plan is to set it up in the conference room for Excel budget presentations, WXGA (or 1280×800) should be plenty clear. This resolution is the most widely compatible with the dimensions of modern laptop screens and will making swapping the content source a piece of cake. However, if you have an existing projector and/or screen, you may want to stick with your existing XGA (or 1024×768) resolution. Of course, there is always the option for the gold standard. Whether it's an overinflated budget or true necessity, HD (1920×1080) will provide you with the best possible resolution for your projections.
Portability
Behind their bolted-in conference room companions, portable projectors are some of the most popular for business professionals. In addition to brightness and resolution comparisons, make sure to examine how valuable portability is to you. Increased portability often brings a significant reduction in image quality and may not ultimately be worth it. If you're forging ahead with a mobile option, some of which are small enough to comfortably fit inside your pocket, make sure whatever you choose has the ability to read data from a USB or SD storage device. There's no reason to buy a model compact enough to leave the backpack at home unless you're utilizing all its added bonuses. This means you might have the option to purchase a mini-projector with a battery integrated into the device; just remember that it's unlikely you'll have the picture quality or features to truly enjoy video and multimedia presentations.
Extra Features
What would any piece of hardware be without a few cool extra features? Top of the line projectors have a myriad of specialized add-ons that might be just what you need to make your final decision. We've already talked about USB and SD storage, but what about an iPhone or Android dock incorporated directly into the unit? And if that doesn't tickle your fancy, cut the cords entirely with wireless-enabled projectors. Regardless of whether it's one of these options, or something like internal storage capacity, always thoroughly test any special features before letting them factor into your final choice. There's nothing worse than basing a decision on a total misnomer.
Our customers often forget to utilize one of our most useful service options: hardware consulting. If you're ever in the market for new equipment at your organization, or need advice on how to get the most of what you currently have, don't hesitate to ask. We're an office full of gadget geeks who love the opportunity to talk about the latest and greatest the industry has to offer. Contact us today!
Published with permission from TechAdvisory.org.
Source.